Body Charge's Chair Massage
When we meet someone and they learn that we do a chair massage they get curious about how it works. A lot of times people image getting a massage in their chair at work. However, this isn't an accurate description of what a chair massage is. In fact it isn't even close to the experience we create for people at events, trade shows, and corporate events. There are several things that go into a chair massage and that means we do more than simply walk around the work place giving massages.
Portable Massage Chair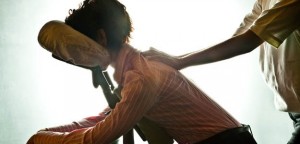 The first thing to understand is that we use specially designed chairs to help with the massage process. It makes it easier for us to come to you and your business when we don't have to carry a heavy message bed around. The massage chair we use is lighter and much more portable. It is also designed to assist with the massage process. You sit leaning forward face down in a relaxing and comfortable position that allows the masseuse to message you back and neck with ease.
Chair Massage Privacy
This is the second and probably one of the most important parts of a message. When people find out that you go to businesses to give massages it can create the thought that you will be giving a massage where everyone can see. This makes it hard to relax and enjoy the massage. So by having our portable chairs we are able to reach set up in unused offices, meeting rooms, or any space that has a decent amount of privacy. This allows us to make the most of your experience.
In the end the most important part of a chair massage is our ability to help employees relax and relieve the stress from everyday work. Our goal is to help change the ambient and efficiency of your business. When a person is relaxed and doesn't feel a lot of stress is generally when they are most productive. If we can help your business than we are helping our business and at the end of the day everyone goes home a feeling better.
See how Body Charge can help you by filling out a form today!