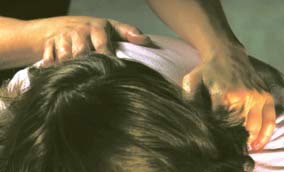 Seated chair massage and health fairs go together as naturally as sunshine and summertime.
Whether you are a private company wanting to sponsor a health fair for your own employees, or a community center, medical clinic or church putting together a health fair for the public, Body charge has the experience and skills to help make it a success. Health fairs are typically for providing people with basic healthcare information, as well as product demonstrations and health screenings for such issues as blood pressure and cholesterol levels.
For the inexperienced attendee, a health fair is a safe environment where they can learn about massage benefits while experiencing it hands-on. From an event organizer's standpoint, offering seated chair massage can increase public awareness of the event, as well as interest, which in turn leads to as increase in attendance. When an attendee is relaxed and attentive, they will be more receptive to the healthcare information being provided and have greater take-away information when they leave the event.
A seated chair health fair massage can last anywhere from 5 to 30 minutes, but 10 to15 minutes tends to be the standard. Since 1994, Body Charge has been in the business of helping people feel relaxed, invigorated and stress-free, and have the experience and skills to bring those benefits to your health fair attendees.
Contact Us today with any questions you may have, we are happy to help!