Seated Chair Massage for Tours and Product Launches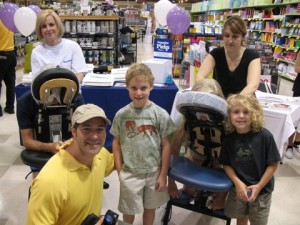 If they sit with us, they'll stay with you!
In its 14 year history, Body Charge has done multi-city tours for Mercedes Benz, Lexus, Parents Magazine, Lincoln Mercury and Anheuser Busch to name a few. We have handled 20- cities with 80 venues for the launch of the Michelob Ultra Product Launch.
In fact, Lexus asked us to set up a spa for them in 14 cities, including aromatherapy, reflexology, hot stone chair massage, and provide meeters and greeters as well.
Body Charge Inc. is part of your marketing team offering massage for tours and product launches. Our job is to help you sell to your potential clients. Thus we are open to any kind of uniform or protocol you suggest. This is about you and your company and your products.
Where would you like to go? We can be there for you, and anywhere you want, whether it be the beach, a studio lot, a yacht, a night club. You name it, we've done it.
Quality and experience. That is what Body Charge Inc. offers you.
We can also offer:
Greeters and hostesses
Foot massage and reflexology
Aromatherapy
Electric Foot Massagers
All events are coordinated and managed by the Body Charge corporate office and regional managers
Therapists adhere to a strict dress code
We have skilled therapists in all major markets
Foot reflexology is available for a more "spa type atmosphere" along with aromatherapy diffusers
We can mobilize a team quickly anywhere in the US.
***Sound systems and audio messages being transmitted during a massage takes away from the experience of relaxing. You and your team can market to clients who have just experienced a great massage rather than an audio marketing message.