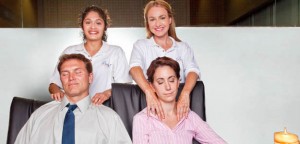 A corporate chair massage is one of the best ways to enhance your employees' health and well being while reducing work-related stress in a short period of time. Our mobile massage services here at Body Charge can provide healing relaxation anywhere—your office, movie sets, tradeshows, hospitality tents, or any other worksite.
Corporate massage services have become popular within the business world due to their widely publicized health benefits. An office massage has been found to reduce stress, relieve muscle tension, and increase overall flexibility and circulation, which are especially important for office workers who experience a great deal of stress on a daily basis.
In addition to these benefits, companies and organizations using on site massage therapy as sales incentives or company and employee rewards programs have also reported a significant increase in productivity and reduction in illness and absenteeism among employees. Work-related accidents, workers compensation claims, and medical insurance-related costs can be greatly minimized with regular massage therapy in the workplace.
Body Charge chair massages can help you and your employees to relax and recharge for a few minutes each day. You can take advantage of our one-time chair massage service, or we can provide you and your employees with a reoccurring wellness program, delivering relaxing, therapeutic massages on a regular basis.
Aside from corporate massage services, we also offer office massage services during employee appreciation days and seated on site massage during health fairs, trade shows, or other special events.