Commentary August 12, 2010, 5:00PM EST
Dreaming of Steven Slater
The airline worker's dramatic exit from his job seemed to spring from the collective imagination of a hot, angry, overworked, and underpaid America
By Devin Leonard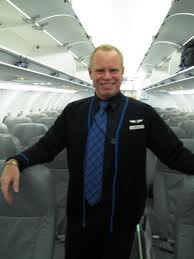 What's remarkable about the case of Steven Slater, the JetBlue (JBLU) flight attendant who quit his job in magnificent style on Aug. 9, is not that an airline worker would snap after an encounter with an unruly passenger on a mid -morning Pittsburgh-to-JFK run. It's that so much of the rest of the country applauded. While possibly committing several serious violations of federal law, Slater's every move"using the plane's P.A. system to curse at a rude customer whose bag had landed on his head, politely thanking the other passengers, grabbing two beers from the galley before sliding down the inflatable emergency chute and sprinting toward home"seemed to spring from the collective imagination of a hot, angry, overworked, and underpaid America.
Headline writers describing the incident invoked Johnny Paycheck's No. 1 country hit from the hard times of 1977, Take This Job and Shove It. Most of them, however, missed the twist that gives the song its emotional weight: The singer never works up the courage to leave his detested factory job. He simply fantasizes about having "the nerve to say" it, the way so many Americans dreamed themselves into Slater's JetBlue shoes.
Slater "a 20-year veteran of the airline industry who gushes on his MySpace page about his commitment to his career" was lounging in bed with his boyfriend when the police came to arrest him at his Queens (N.Y.) home. As they perp-walked him past the cameras, Slater grinned from ear to ear, as if to tell his fellow Americans: "It feels great!"
The public response was swift and overwhelming. People created dozens of Facebook pages with names such as "Steven Slater: Hero of the Working Man." Two days after his arrest the pages had attracted more than 180,000 fans. The admirers were soon sharing quitting stories of their own, occasionally with details about the boss they told off. More often they shared their dreams of doing so. On a page called "Can Steven Slater Get More Fans Than Justin Bieber?" a Facebook user named Karen Bonner struck a typically wistful note: "I wish I had the nerve…," she wrote.
We are deep into what is so far the hottest year in recorded history, and into the second year of a prolonged economic slump. Unemployment is stuck at 9.5 percent, with an additional 7 percent of Americans either holding in part-time positions or no longer looking for work and thus no longer even counted as unemployed. A grim new noun has entered the lexicon "99ers," people whose 99 weeks of extended jobless benefits have all run dry. No wonder the vast majority of people who have jobs aren't about to give up a steady paycheck, no matter what indignities are visited upon them. That doesn't mean they aren't secretly ready to explode. "Slater tapped into a vein of anger that a lot of people have toward their employers," says John Challenger, chief executive officer of Challenger, Gray & Christmas, a Chicago-based outplacement firm. "They are mad about all the layoffs they've gone through at work. They are mad about having their benefits cut."
In such an environment you might expect to find more Steven Slaters. Despite some of the recent boasting on Facebook, few people are giving notice. Though the economy showed fitful signs of life earlier this year, people didn't head for the exit chute; the Bureau of Labor Statistics says the rate of people quitting barely budged from January through May. And that was before consumer confidence plunged and economists started talking about the possibility of a double-dip recession. In a job market like this, almost everybody feels expendable. It's the job "however unsatisfying it may be" that's hard to replace.
Sandwiched between these phenomena, employees feel mounting pressure. Last year, according to the federal government, worker productivity climbed 3.5 percent as companies shed millions of employees and figured out ways to get more work from those who remained. It was the biggest increase in six years and great for corporate profits. It was considerably less great for workplace morale. According to Towers Watson (TW), a benefits consulting firm, employee engagement, or loyalty, declined by 9 percent in 2009. Until the recovery picks up, however, those disengaged workers are staying on.
Maybe the best they can do is reach for a second beer, turn the A/C to deep freeze, and live vicariously through Slater. He has been charged with reckless endangerment and criminal mischief, and faces seven years in prison. Yet only the hardest of hearts would deny him whatever monetization he can muster in return for this welcome moment of wish fulfillment. (Especially since he's caring for his ill mother, herself a veteran of the airline industry.) If nothing else, Slater made a lot of Americans laugh at a grim moment in the life of the country. "What's so great about this is that it's a real life," says Challenger. "It's not scripted. It could have been scripted. I love the fact that he took two beers. If I was a beer company, I'd capitalize on that right away."
Those in corporate America who don't sign him up as a spokesperson would be wise to ponder Slater's case. His admirers may not be as brave or impetuous as their hero, but that doesn't mean they won't be heading for the exits as soon as the economy picks up and new opportunities present themselves. As one of his fans, maskedscheduler, wrote on Twitter: "On behalf of all of us thinking about creative ways of leaving our jobs, screw you Steven Slater for setting the bar ridiculously high."
Leonard is a reporter for Bloomberg Businessweek in New York.