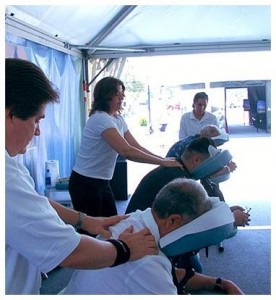 Body Charge has been leading the way in the business of on-site chair massages for events and organizations since 1995.  We have accumulated the experience and expertise that allows us to give the best corporate chair massages in the industry.  We believe experience can be a teacher.  With Body Charge, we have 14 years in which we evolved into a top rated company. Seated massage is no longer a luxury now, but a necessary service to keep your staff sharp relaxed and sharp.
We grow and evolve every year.  We effort at becoming the best choice for on-site chair massages in the industry.  Our clientele repeat clients that tell others about us.  We believe this doesn't happen by accident.  It happens through our continually and progressive efforts to enrich our clients' lives with healthy and effective chair massages.
Get the benefits of chair massages at your office or event today!